Jenkins Auction Service - St. Johnsbury VT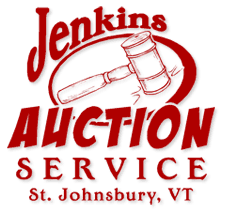 Licensed in the State of Vermont.
All sales types: Antiques, Benefit, Estate, Construction Equipment, Real Estate and Bankruptcy.
Electronic clerking and bidder registration system - spend less time in line signing in and cashing out.
We are fully insured.

"Whether you are a buyer, seller/consigner or just looking for a day of fun,
Jenkins Auction Service's #1 priority is to send everyone away with a smile."
Jenkins Auction Service is owned and operated by Blake Jenkins Jr. and Kirby Parker. Blake and Kirby are graduates of the Reppert School of Auctioneering in Auburn, Indiana, one of the oldest and best auctioneering schools in the world. Blake and Kirby both grew up in St.Johnsbury and are St. Johnsbury Academy Alumni.
Upcoming Auctions
Services
Consignment
We hold a monthly consignment auction, check this website for dates. If you would like to put any items in the auction please contact us a week prior to the auction. We will then set up a time to meet with you to go over our consignment contract and at that time we can transport your items to the auction location.
Estate
If you are interested in having an estate auction or you have any questions about estate auctions don't hesitate to contact us. Before we begin we will meet with you to go over our contracts and terms and conditions. At that time if you are interested in going ahead with the auction we can discuss advertising and other expenses.
Benefit
Benefit Auctions are a great way to raise money for your organization. At Jenkins Auction Service we offer our services not only to auction off your items, but to help you every step of the way organizing your benefit. We will help collect items to auction off, we will attend your planning meetings to offer our advice, we will help you set up a silent auction in addition to your live auction and we will train your volunteers, to help be bid spotters or to use our electronic clerking and registration system.
If you decide you would like more information about our services or you would like to discuss our fees don't hesitate to contact Kirby Parker.
Jenkins Auction Service
St. Johnsbury VT
802-748-9296
sold@jenkinsauctionservice.com